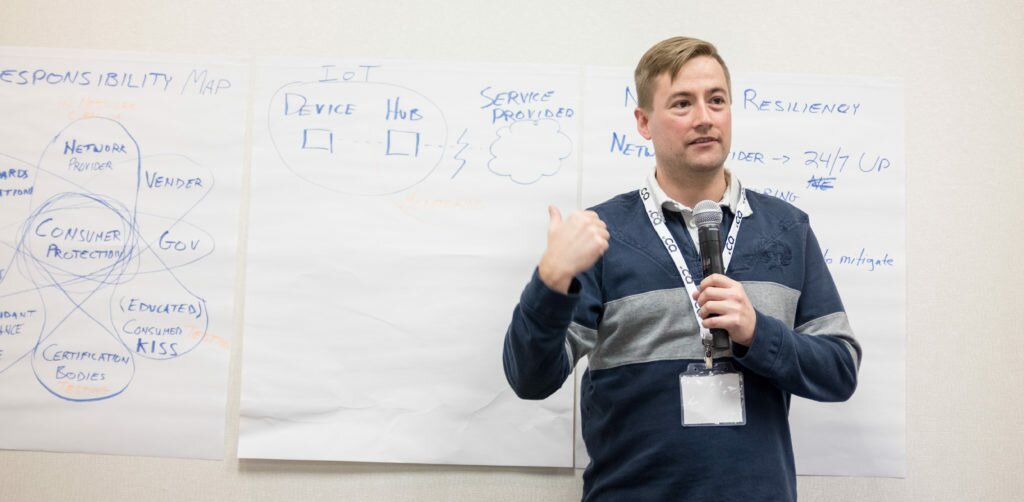 A participant at the first multistakeholder meeting describing how to define IOT
The partners in the Canadian Multistakeholder Process – Enhancing IoT Security initiative would like to extend our thanks to our multistakeholder event attendees for showing up en masse and being so engaged in this important process. We are pleased to present the report from that event to you. You can also find the presenters' slides on the Resources page. If you weren't able to attend the event on April 4, we hope you will engage with us throughout 2018.
In the report, we identified some next steps. As per your recommendations, we have created the following listservs to carry on the discussions we had at the first meeting:
General Discussion: For general discussion about all relevant areas of IoT, including outstanding issue areas and other potential working group streams.
IoT Procurement: For discussion about how to educate consumers about the questions they should ask when procuring IoT devices for business or personal use.
IoT Users: For discussion about how to make consumers aware about how and when data is used, and how to reduce potential risks.
IoT Classification: For discussion about how to create a classification schema to determine where to draw the line between consumers, service providers and creators for the purposes of this project.
We encourage you to sign up to the listservs that will address the areas of interest to you so we can build on the points of consensus reached at our meeting. Please email info@iotsecurity2018.ca to be included on these lists or for more information.
Once again, thank you for your participation in this initiative and look forward to working with you this year!